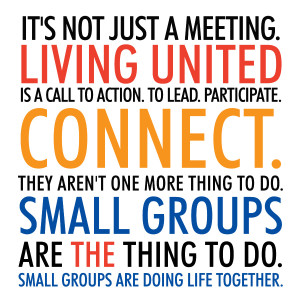 Step 2 in our discipleship process is GROWING IN. Small groups are a great way to Grow in the Word with other believers, and continue to grow as a disciple of Christ. Some of our small groups meet on-site at Messiah while others meet in public locations or in private homes — between all of our options, you should be able to find one that will be a good fit for you or your family — or perhaps you may be led to start a group.  Messiah coordinates the small groups for our community in order to build up the body of Christ from the inside out.  These five areas are:
Spiritual:  Develop a closer relationship with our Savior.
Emotional:  Study God's Word and strive to apply it to our personal lives.
Physical:  Meeting each other's needs by serving each other and serving the community.
Social:  Pray for individuals in our lives who are lost and those who are near to us but far from God.
Confidentiality:  Build a caring community of trusting relationships with each other.
Want to join a Messiah small group? Need help finding a Messiah small group? For more information about our current groups, please contact Myron Harms at mharms@messiahokc.org or (405) 946-0681.