We know it takes a lot of guts to even decide to walk into a strange building, with people you don't know and be comfortable. We put the information below in so that you can prepare yourself just a little bit more. Be sure to familiarize yourself with our facilities first by taking a 360 degree visual tour right here: TAKE A TOUR OF MESSIAH. Here are answers to other questions you may have.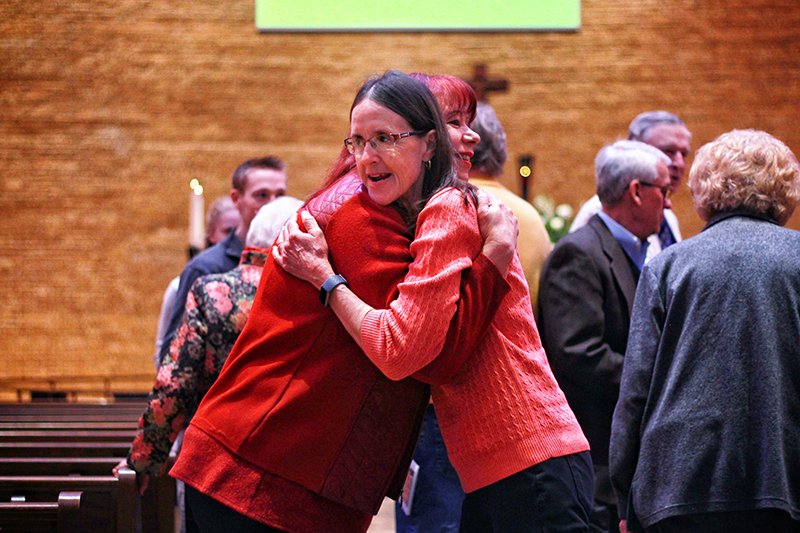 Frequently Asked Questions
What should I wear to worship?
The Oklahoma City metro area has a great mix of people and clothing styles. People feel comfortable attending church dressed casually as well as formally, both for weekend and midweek services. You can wear just about anything and fit right in at Messiah. We are more concerned with meeting you and and helping you grow spiritually than with what you wear to church.
How early should I arrive for worship?
Our services begin at 8:150 a.m. and 10:45 a.m. on Sundays, at 8:30 a.m. on Wednesdays during the school year, and at 7:15 p.m. on Wednesdays during Advent and Lent. If you have children, or need a little extra time getting around, it would help to arrive 10-15 minutes early to allow time to find classrooms, restrooms and get settled in.
What can I expect when I come to Messiah for worship?
You can expect to be greeted warmly at the door and receive Messiah's newsletter/bulletin.  Everything that you need during worship is projected onto the screen at the front of the church, and a limited printed order of worship is available in our 8:15am liturgical and 10:45am multi-generational worship services have the order printed in the bulletin for you. If you attend either the 8:15 or 10:45 traditional worship services, you will sing hymns. You can either follow along on the screen up front, or you can sing from a hymnal.  At the beginning of the service, there will be brief announcements from the pastor.  About midway through worship, the Pastor will deliver his message and it will last about 20 minutes. An outline for the message is typically provided in the bulletin, so that you can follow along and absorb more of what is being taught.  Depending on the service, there may also be baptisms and Holy Communion. 
What if I haven't been to church in a long time?
Not a problem. In fact, it doesn't even matter if you've not been to church at all. Every weekend, people visit Messiah for the first time. Our worship services are easy to follow and don't require that you have any past church experience.
Can I take Communion?
Baptized adult Christians who know they need God's daily forgiveness, who are sorry for their sins and seek God's forgiveness, and who believe that the body and blood of Jesus are truly present in the Lord's Supper are invited to share this great gift of God with us.
Jesus called us to celebrate Holy Communion until He returns so that we may have forgiveness of sins, strengthening of faith, and the power to live God-pleasing lives.
God's Word tells us that when we receive the Lord's Supper, we are not merely receiving bread and wine, but the true, real body and blood of Jesus Christ. Jesus said in Matthew 26:26-30, "This is my body . . . this is my blood;" not "this represents my body" or "this symbolizes my blood."
We ask that children who have not been Confirmed (special training classes taken during 6th-8th grades), please refrain from taking communion. However, we do welcome all children to come forward during our communion time and be with their family, and to receive a special blessing from the Pastor. It is in this way that children begin to learn about communion and its proper celebration.
If you have doubts or do not understand our beliefs about the Lord's Supper, please call our church office and ask to speak to one of the Pastors, who would be happy to help you understand the meaning of the Lord's Supper. White grape juice is located in the inner ring of the Communion tray for those who prefer its use.
Is it hard to find parking?
We have plenty of parking spaces for all services. Families with small children may want to park on the SW side of the building closest to the Child Care & Learning Center wing, while families with school-age children (K-12) might find it more convenient to enter at our Messiah Lutheran School entrance on the NE side of the building. There are signs outside each door that say either Messiah Lutheran Child Care & Learning Center or Messiah Lutheran School, so that you will know which door to come to. Many of our senior adults park on the south end of the campus, as there are some parking spaces set aside especially for these members so that they can have easy access to our Worship Center. There is a covered driveway at the main doors on the south side of the building, for those who need to drop family members off. Handicap parking spaces are available near every entrance, and automatic doors help with access on the east and south main entrances.
What is available for kids?
We have great, Bible-based programs for preschoolers, children in grade school, middle school, and high school students.  We know that your child's safety is important. Our buildings and procedures have been designed to create a safe environment where kids can play, learn, and enjoy their time at Messiah. Please check out more opportunities for children and students by clicking here. During worship, we also offer Kid's Time about mid-way through worship – a time for young ones to be able to wiggle and fidget and also hear the gospel message in a way that will be interesting to them.
Do I have to turn my kids over to strangers when I come?
No, you don't. We understand that it's difficult to find someone you can trust to care for your children. But if you get to a point where your young children need some time away from the worship center, we do offer child care for children up to age 3. During the 9:30 worship time, we offer Kingdom Kids, which is our FUN Bible learning version of Sunday school for our 1st-5th Graders. We also offer Sunday School for children ages 3-Kindergarten at 9:30. Our 6th-8th grade middle school students and our 9th-12th grade high school students also meet for Bible Study time at 9:30 on Sunday mornings. However, we do want our adults GROWING IN and connecting in the Word with other believers, so if you are not connecting on Sunday mornings, we want you to get connected to a Bible Study or Small Group at a time that is convenient for you.
Where are your offices?
Our church staff offices are located on the E side of our building, toward the middle of the building. The entrance door has a sign outside that says Messiah Church Office. Our Child Care & Learning Center office is easily accessed on the SW side of the building. A sign outside the door will say Child Care & Learning Cetner. Finally, our School offices are located on the NE side of the building. There is both large signage over the door, and next to the door saying Messiah Lutheran School. Whatever entrance you happen to enter in, look for a map of the building to find your way. Or better yet, stop the closest person and ask them to assist you.
To find out more about Messiah…
You might want to check out our worship services and sermons by listening to our audio recordings that can be found on our home page.  Audio recordings are made of both the worship music and sermon portions of our worship services, and at both types of services we offer – Traditional and Contemporary.
We encourage everyone who is new to Messiah to attend our New Member Orientation.
What if I want to become a member?
Several times a year, Pastor Muenchow offers a New Member Orientation Class.  Please be sure to sign up whenever the next New Member Class is. It is announced in our bulletin, on our sign outside and through other methods, so watch for the notices.  We would love to have  you join our Messiah family. Please contact the church office at (405) 946-0681 for details.Check out the Lutheran Church Missouri Synod website.  It will answer all your questions about doctrine and beliefs of our church.  You can also feel free to contact Pastor Muenchow.  He will gladly answer any of your questions.